Comprehensive social media management through
social content strategy, creation and execution
The GETSocial program from AgoraEversole is a compliance-friendly social media management and marketing program. We offer several levels of service depending on your business needs – based on whether you need to be active on multiple social platforms, the number of recommended social ad campaigns, stories and videos, design needs, and more. We develop a unique plan for you that will deliver social engagement and results.
In coordination with you, we develop social media strategies, creative designs, post scheduling, and management of your social platforms.  The strategic areas of content include:
organic – community involvement, charitable support, and people posts like work-a-versaries,
resourcefulness – tips for customers, helpful articles, and useful conversational posts.
product and service – the right mix within your social conversations, shared creatively and positioned to benefit your audience.
We are proactive in bringing ideas and campaigns that work well for other clients like you, so you get best-practices approaches that work.
In addition to our planning and implementation, our process includes engaging your in our dynamic and efficient software system for proofing your posts, preplanned calendars and strategies.  You will then receive measurements and reporting on social outcomes monthly.  We focus on engagement and activity to help your business achieve measurable results from your social presence.  Let us show you case studies and see what we can achieve for you!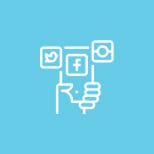 Social Platforms
Facebook, Instagram, Twitter, LinkedIn & more
Social Advertising
Targeted & managed ad campaigns
Creative
Graphics & strategic content creation
Management
Posting, communication, monitoring
Social Media Service Options
Community Banks, Healthcare Practices and other business need to engage and be resourceful.
This AgoraEversole service adds social media marketing and management as a vital part of your marketing services.  As part of your other core marketing services with us, we will handle everything from creative to ad campaigns.  Simply put, better strategy and content means better engagement, and better engagement means better results.  Let's talk about how we can mix in social media services with the marketing needs of your company.
This is the social media answer that your business has been looking for.
Engage your target audience…  Sharing the right ideas and content consistently is critical. Strategic, creative and sharable content provide value to potential and current customers by including your voice, culture and thought leadership in your community areas.
Establish & grow an engaging presence on relevant social platforms including Facebook, Instagram and Twitter.
Target specific demographics with the right ad campaigns delivering measurable results.
Save time and have it done well…  We do it for you, so you can focus on your responsibilities. We'll produce both custom graphic designed branded posts and curated content to each platform, and run targeted social media ad campaigns to reach exactly where and who you want.
Strategic planning and reporting each month integrate your social presence with your bank's growth goals.
Improve customer experience and retention with social, informative and useful content.
Get results…  Word of mouth isn't spoken anymore, it's posted and shared. 78% of consumers trust social conversation and recommendations. Interaction with people is more powerful than you promoting you. GETSocial delivers reporting and ROI for you.
Best practices brought to you by bank and healthcare marketing professionals, along with experienced monitoring.
Generate new customers by becoming a thought leader in your community.
Executive Level
2 social platforms
strategic planning
creative & posting
account management & monitoring
reporting
1 ad campaign
Premier Level
3 social platforms or 2 + Stories/videos
strategic planning
creative & posting
extensive account management & monitoring
reporting
2 ad campaigns
Enterprise Custom Level
3+ social platforms or 2+ Stories/videos
Annual Marketing Strategic Plan + monthly
extensive custom creative & posting
extensive account management & monitoring
multi-platform reporting
3+ ad campaigns
Let's talk about growing your business's market share today!
AE BANK MONITOR – COMPLIANCE ADD-ON
The AE Bank Monitor service is a brand new add-on option for our social media services for community banks with no long term contractual obligation.  In addition to the time-tested compliance processes that have been our standard procedures for years, some bank clients have been asking for an even higher level of monitoring. We are now additionally providing this over & above top-level compliance program that addresses every possible additional compliance concern that is not a requirement as part of GETSocial.  Some banks prefer going steps farther, and this is that answer!
This invaluable compliance service includes:
Social Marketing Plan and Governance Structure
Social Media Employee Use and Management Policy
Proactive Risk Management with real-time monitoring of posts to enforce company policy and regulatory compliance
Social Media Employee Training Program
Real-time proactive Reputation Monitoring and Remediation
Social Archive to capture all posts and comments, and remediation
Rules: Customized documents are created to satisfy your risk management program including Governance, Use & Management, Risk Assessment and Employee Training.
Risk: We take your policies and regulatory requirements, classify their risk levels, and assign an automated work flow for execution when a violation is identified.
Remediation: All data posted is filtered against your policy and risk parameters and analyzed for violations. Real time notifications of any violation ensure timely remediation.
Reports: We provide a monthly Social Archive Report (all posts, comments, other) and a Policy Violation Report (detailed audit trail of all violation flags).