SPECIAL OFFER FOR ABA MEMBERS
During the COVID-19 pandemic time period, ABA members will get 50% off of all Setup Fees for the GETSocial program, representing savings of up to $500.  AgoraEversole is more valuable than ever as a partner during this time period and beyond through communications, strategy and marketing services for your bank.  We are very busy with our GETSocial clients throughout the Southeast, but are also prepared to quickly onboard new bank clients that are our Alabama partners.
This is the social media answer that your bank has been looking for.  Simply submit the form below or call to connect with us while this offer is in place.
GETSocial for Community Banks
Community Banks have tremendous opportunities to utilize social media to increase market share…
Banks also have special regulatory considerations, and need a highly experienced social media team to engage your customers with dynamic yet compliance-approved marketing.  AgoraEversole has provided just that service through GETSocial for banks throughout the Southeast for many years.  We are endorsed by numerous state banking associations, and are the right partner for your financial institution.
Our value is in making an impact for you.
Establish/grow an engaging presence on relevant social platforms including Facebook, Instagram and Twitter.
Monthly strategic planning and reporting integrate your social presence with your bank's growth goals.
Best practices brought to you by bank marketing professionals along with experienced monitoring.
Target specific demographics with the right ad campaigns delivering measurable results.
Improve customer experience and retention with social, informative and useful content.
Generate new customers by becoming a thought leader in your community.
GETSocial service level options:
Executive Level:  2 social platforms; strategic planning; creative & posting; monitoring & account management; reporting; 1 ad campaign
Premier Level:  3 social platforms or 2 + Stories/videos; strategic planning; creative & posting; monitoring & extensive account management; consultation on Social Media Policies & Management Program; monthly reporting; 2 ad / boosted post campaigns
Enterprise Custom Level: 3+ social platforms or 2 + Stories/videos;
Annual Marketing Strategic Plan

included + monthly checkins; assistance implementing a Social Media Policies & Management Program; custom creative & posting; monitoring & extensive account management; multi-platform reporting; 3+ ad / boosted post campaigns

Setup fees range from $500 to $1,000 depending on service level.
Let's talk about growing your bank's market share today!
Contact us about GETSocial marketing for ABA members: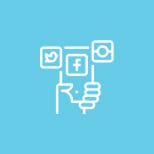 The GETSocial program from AgoraEversole are compliance-friendly management and marketing programs.  In coordination with you, we develop social media strategies, then we do the creative design, posting and management of your social platforms.  The buckets of content include (1) organic (community involvement, charitable support, people posts like work-a-versaries), (2) resourcefulness such as helpful articles, tips for customers and useful conversational posts, and the (3) product and service creative and posts.  You can proof before we post.  We are proactive in bringing ideas and campaigns that work well for other clients like you, so you get best-practices approaches that work.
We then measure and report on social outcomes monthly.  The focus is on measurable engagement and activity to help your business achieve results from your social presence.  We offer several levels of service depending on whether you need to be active on multiple social platforms, the number of recommended social ad campaigns, stories and videos, design needs and more.  We develop a unique plan for you that will deliver social engagement and results.  Let us show you case studies and see what we can achieve for you!
Social Platforms
Facebook, Instagram, Twitter, LinkedIn & more
Social Advertising
Targeted & managed ad campaigns
Creative
Graphics & strategic content creation
Management
Posting, communication, monitoring